April 10 – Due to COVID-19, the June session of Academy has been canceled and registrations will be refunded. We are exploring the possiblity of moving camp to July and will be in touch with registrants and will post details online as soon have we have more information.
Develop and display your talent in a fun and challenging setting!
Summer Stock Stage provides high school students from throughout central Indiana with a premier musical theater experience.  Summer Stock Stage Academy is a two-week musical theater camp for elementary-aged students.  Academy campers focus on vocal, dramatic, and dance technique and gain confidence and skill as they work with the SSS artistic team to learn music and choreography.  They perform at Park Tudor School on the final day of camp as the stars of their own show.
SUMMER STOCK STAGE ACADEMY – June 15-26 2020
Students entering Grades 2-8, $650
Park Tudor School, Middle School Library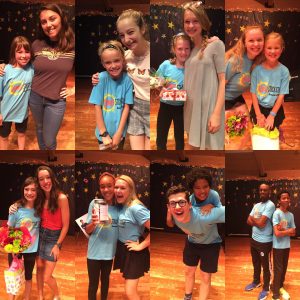 Camp Dates:
June 15-19, 1:00 – 4:00 p.m.
June 22-25, 1:00 – 4:00 p.m.
June 26, 10:00 a.m. – 4:00 p.m.
Camp Performances:
Friday, June 26, 11:00 a.m. and 3:00 p.m.
At Park Tudor School, Middle School Library Stage, admission is FREE
Space is limited. Registration is through Park Tudor School summer program website and is now open.  Email info@summerstockstage.com with questions.